Welcome to the Fellowship of Awsomeness Wiki! We tell the tales of the great Fellowship of Awesomeness! Let Awesomeness reign forever!
Meet the Fellowship!
Edit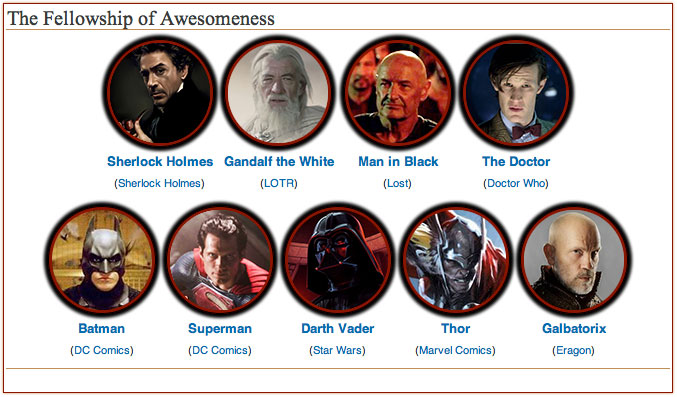 These 9 brave heroes and villains from across the multiverse travel, fight and think together to solve the problems facing the universe! It all started with The First Adventure:An Awesome Adventure, where the team destroyed the One Ring. The story continues with An Awesome Adventure: Part 2, where the Fellowship venture to free themselves of the dream world. Latter, the Fellowship goes on yet another adventure in The Fellowship of Awesomeness: The Copper War.
What is the FOA?
Edit
The FOA (Fellowship of Awesomeness) started at the end of Wiki's collaborative writing project "The  Fellowship of Awesomeness". In this, Superman, the Man in Black, Thor, Gandalf, Batman, the Doctor, Sherlock Holmes, Darth Vader, and Galbatorix united to form the ultimate fellowship, and in the end destroyed the Ring of Doom. Fellowship of Awesomeness Wiki is a place where anyone can make stories of this elite team, and also craft their own groups. HAVE FUN!!!
Active stories
Edit
Completed stories
Edit
Latest activity
Edit
Community content is available under
CC-BY-SA
unless otherwise noted.